No.
The UK voted to leave the EU on 23 June 2016 and was due to leave on 29 March 2019 following two years of negotiations.
Theresa May tried – and failed – three times to get the deal she agreed with Brussels passed by MPs. Her failure prompted her resignation as prime minister and Brexit being pushed back to 31 October. Boris Johnson has replaced her and insists Britain will leave on that date "do or die".
The new prime minister wants to negotiate a new Brexit deal, but says he is prepared to leave without a deal if necessary. With less than 100 days to go, Sky News will be tracking his progress.
Sky News will be assessing all the twists and turns on a daily basis, giving you the lowdown on how much closer Brexit is to happening and, crucially, with or without a deal.
Brexit – 72 days to go
By Tom Rayner, political correspondent
The prime minister started the day by suggesting he was "confident" EU leaders would come around to his demand that they drop the Irish backstop in order to avoid a no-deal Brexit.
He ended the day by writing a letter to the EU Council President setting out in more detail than he ever has previously the terms on which he believes a swift renegotiation could be possible before 31 October.
In the letter to Donald Tusk he said the Irish backstop should be replaced by a commitment to have alternative customs arrangements that avoid the need for checks at the border in place by the end of a two-year transition period.
He also signaled he was prepared to offer "commitments" to give confidence that the border would remain open should those alternative arrangements not be ready in time, but did not specify what those commitments might be.
Brussels did not immediately respond, but it is understood the plans were discussed during a telephone conversation earlier in the afternoon between the prime minister and the Taoiseach Leo Varadkar.
During the call the Irish leader insisted the Withdrawal Agreement could not be renegotiated and stood by the importance of the backstop as a "legally operable guarantee" to avoid a hard border.
PROGRESS REPORT: In the last 24 hours the prime minister has set out what he requires to agree a Brexit deal by 31 October, but without a positive response from the EU the likelihood of a no-deal outcome on that date remains unchanged.
Brexit – 73 days to go
In Westminster newsrooms, August is usually branded "silly season". Politicians head for the beaches, special advisers switch off their phones and even the most media-hungry MPs become suddenly unavailable. Not this August, and certainly not this weekend.
The Sunday Times fired an exocet missile straight into Downing Street yesterday publishing a government planning document painting a grim picture of life after no deal. Quoting an unnamed individual, the paper claimed the details were "likely, basic and reasonable". Not according to sources in Downing Street, who said it was a "worst case scenario" document and had been leaked by a former minister for political ends.
So beyond the spin and the finger pointing, has any of this left a mark and made no deal more or less likely? Well, both sides of the Brexit debate are so dug in nowadays, it seems unlikely any minds will be changed by today's revelations. In fact, both wings appear increasingly emboldened if anything. The Remain-alliance more convinced than ever about the threat of no deal. Brexiteer suspicions boiling over of a "project fear" stitch-up.
But however likely or far-fetched these scenarios are, they will harden the determination of some MPs to stop no deal. And that could throw a spanner in the works of Boris Johnson's tactical stand-off with the EU, which will get personal this week when he visits France and Germany. As the prime minister wrote in a letter to rebels, "it is plain as a pikestaff" that Brussels will not compromise if they know MPs can block Brexit.
Downing Street is engaged in a three-way staring match. And no one wants to blink first.
PROGRESS REPORT: The UK is less likely to leave the EU with or without a deal on 31 October. There has been no progress on negotiations with the EU and opposition to no deal is hardening.
Must see: No-deal plan covers 'absolute worst case' – Gov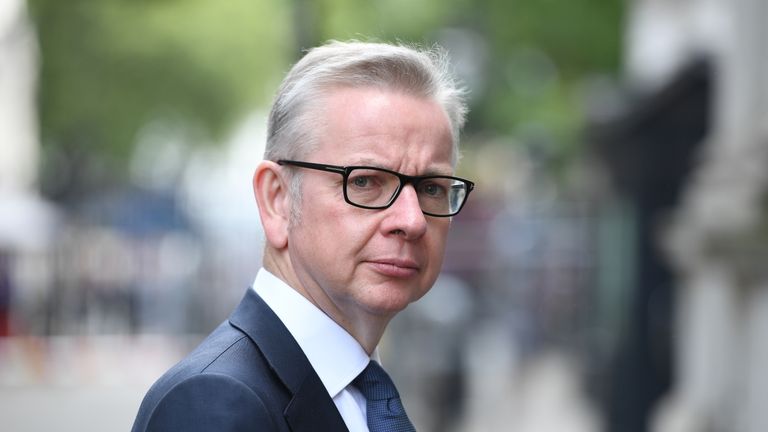 Brexit – 74 days to go
If Brexit were a game, it could easily be chess. Successful players need a solid strategy and ample foresight. Your next move may matter, but the four after that are important as well. Just look at Jeremy Corbyn and other MPs trying to block no deal. The battle of the week has been over who will take over as caretaker Prime Minister. Could it be the Labour leader? Or veteran MP Kenneth Clarke? Or perhaps Harriet Harman?
Again today, Mr Corbyn has insisted that he has the right to form a government before anyone else. But remember, even to get to this point requires the small issue of the current administration falling and a majority of MPs gathering behind another leader. Currently, it's not even guaranteed that Boris Johnson would lose a no confidence vote. And even if he did, the splits ravaging parliament make it almost certain that no other MP would be able to command the confidence of the house.
But Mr Corbyn knows that in the mad world of modern Westminster, political tectonic plates can align at just the moment to allow him to leap across the divide. That's why he is prepping the ground now for the next month's battle. The problem for him is, his political enemies are doing exactly the same thing.
PROGRESS REPORT: There has been no change over the past 24 hours on the likelihood of the UK leaving the EU with or without a deal on 31 October.